Climate
How we manage climate issues, and describe the actions, targets, and commitments in place.
Climate change poses risks but also provides business opportunities for Schindler to market its innovative solutions. Our products – elevators, escalators, moving walks, and related software – play an important role in addressing the impact of climate change by enabling efficient (vertical and indoor) mobility and creating the best use of space in cities.
Responding to climate change and the risks associated with it are of utmost importance to the Board of Directors. Climate-related risks across the value chain are part of Schindler's Group Risk Radar, a multidisciplinary company-­wide risk management process. Risks considered to have a potential substantive financial or strategic impact are presented annually to the Group ExCo and the Board of Directors by the Risk Council chaired by the Head of Group Assurance.
To further understand and manage our exposure to climate-related risks and opportunities, Schindler launched a climate scenario analysis in 2021. In line with the TCFD recommendations, physical and transition risks will be identified and their impact on the company's business and strategy assessed using different scenarios. Results will inform our net-zero transition plan, help us to connect further to our customers' needs, and support the design and implementation of robust mitigation measures.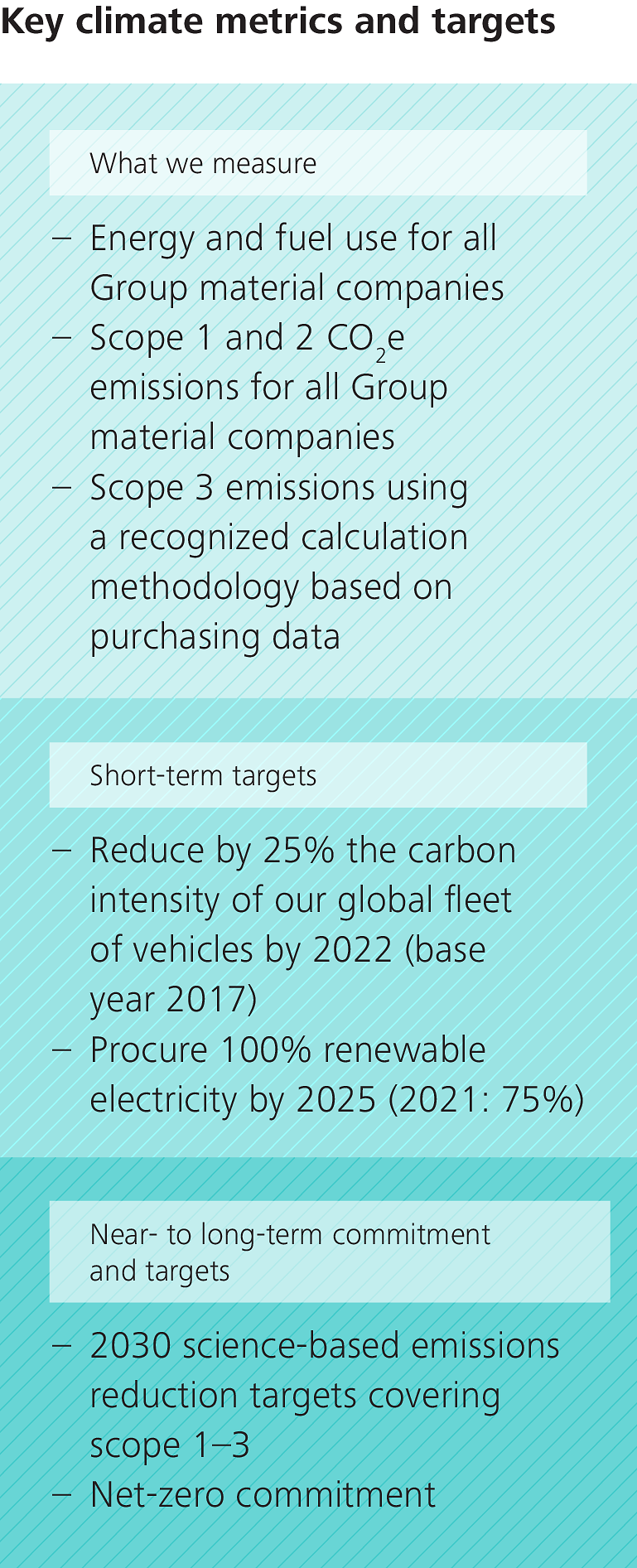 Our customers need sustainable prod­ucts and services – what we call net-­zero urban mobility solutions – as they continue to respond to market and regulatory pressures brought on by a changing climate and increased investor emphasis on ESG.
We believe digitization and decarbonization can offer new opportunities.
The global "intelligent mobility" market is growing fast, while growing evidence shows that sustainable buildings offer increased rates of return for investors, and increased rental sales and sales premiums for owners and developers.1 The EU, through its Renovation Wave strategy, aims to double the annual energy renovation rates of its building stock in the next ten years and make net-zero buildings the new norm.
These trends are providing us with opportunities to invest in solutions that can meet our customers' pressing needs for sustainable products and services.